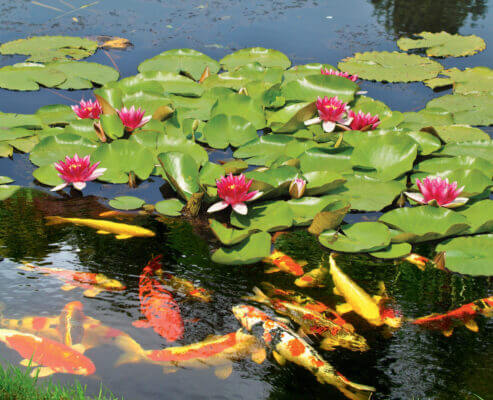 Garden pond water treatment products PROJEZÍRKA®
The treatment of water in swimming or decorative ponds is quite complex and finding a universal recipe for trouble-free pond treatment would be a challenging task. The cornerstone ensuring the quality of water in your future pond is already laid during the process of its planning and building when you need to consider all existing factor that will affect the biological, physical and chemical parameters of the water.
PROXIM s.r.o. manufactures and distributes the PROJEZÍRKA® line of products, which belong among top quality pond water treatment products on the market. When maintaining pond water, we should always keep in mind that it is a biological ecosystem of mutually interconnected processes where any inadequate intervention may disrupt the fragile balance that has been building over many years. At the same time, however, if we use biological or even chemical products according to precisely defined instructions, we can increase the water quality, as well as avoid the occurrence of various problems and their subsequent solution.

produkty z řady Přípravky PROJEZÍRKA®