PROXIM s.r.o. is a 100% Czech company manufacturing and distributing chemicals for garden, household and industrial uses and is a traditional firm that places emphasis on reliability, quality and business partnership. We have recently opened a new company store in Rybitví. The store is intended for those who want to purchase quality products at discounted prices directly from the manufacturer.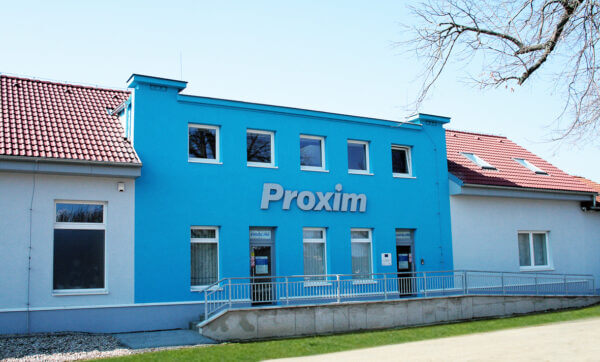 Our product range includes a wide range of products in more than nine categories.
You will find Probazen ("For Pool") swimming pool water treatment products and pool accessories, Projezirka ("For ponds") bio-enzymatic products for the treatment and protection of decorative and swimming ponds, as well as food for pond fish of the same brand.
You will also find Proseptik ("For septic"), biological products for the treatment and sanitation of septic tanks or drainage and sewage pipelines in the home and garden.
You can also buy high-quality and well-proven Resistin, anti-corrosion coatings and sprays, products of the Prospa line for the comprehensive and all-year treatment of water in your whirlpool, the
Ekol auxiliary plant protection product, the PROXIM Speedy product line of top quality winter windshield washer fluids and defrosters, and much more.
Also worth mentioning are our chemicals and chemical products.
The company store is open on weekdays from 7:00 a.m. to 4:30 p.m.
You can also collect orders made through our
e-shop
at our company store.
You will get expert advice on site.

PROXIM s.r.o.,Stará Obec 318, 533 54 Rybitví, Czech Republic
(300 metres from the Secondary Industrial School)
Open: Mon–Fri from 7:00 a.m. to 4:30 p.m.
We accept payment cards.